IDEW 2019 Events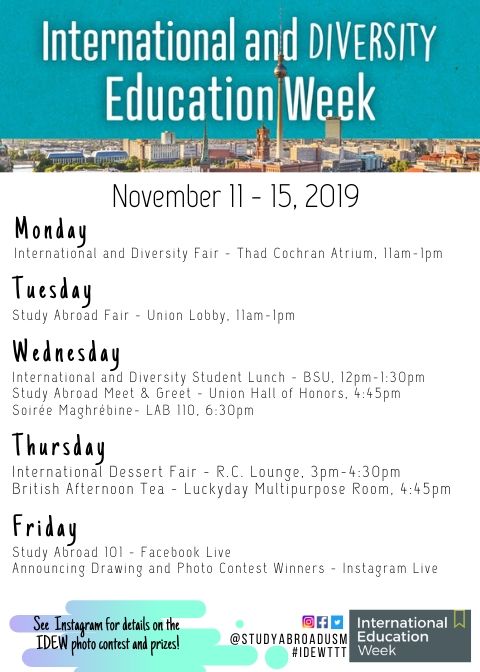 IDEW is a combination of International Education Week and Diversity Week. For the fifth year, the USM Center for International Education has teamed up with the USM Office of Multicultural Programs and Services to bring you IDEW. During this week, we celebrate diversity and cultures on our campus by learning about other cultures, discovering international opportunities, spreading love to members of our community, and more.
There are also chances for you to win prizes!!

IDEW 19 Photo Contest
International and Diversity Education Week (IDEW) is all about sharing and exchanging culture. We are hosting a photo contest that highlights culture in its truest form. We want you to share a photo that you've taken either in the States or abroad that showcases the beauty of your own culture or someone else's. Winners will be selected by the USM Center for International Education. Possible winnings: t-shirt, gift card, goody basket, or $100 towards a USM 2020 Study Abroad Program. Winning photos will also be displayed in the Office of Study Abroad.


To enter the contest, here is what you have to do:
- Follow our account on Instagram: @studayabroadusm
- Post a photo that highlights culture. Tag @studyabroadusm and use #IDEWCulture
- Explain where the photo was taken and its cultural significance
- Please note accounts must be public for viewing
- Contest runs through Thursday, November 14, 2019